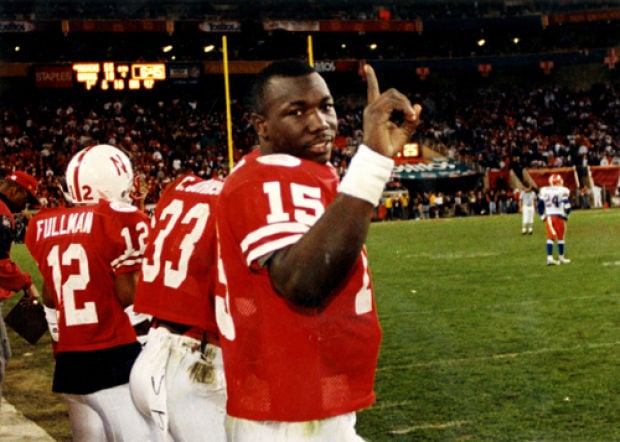 The other day on Twitter someone asked this question: Why hasn't ESPN done a 30 for 30 on the 1990s Nebraska Cornhuskers?
Now, my first thought was this is a very valid question. Then of course, my second thought was: Seriously, how in the hell has this 30 for 30 not been made yet? I mean we are talking about one of the greatest dynasties college football has ever seen.
That is why today, in the hopes of persuading the people at ESPN, The Informer is going to break out 30 reasons why this story about a team, a state and a culture needs to be shared with the world. As you will see throughout this article the story of the 90s Huskers is one that has everything needed to make a great documentary; scandal, power, greatness, adversity, triumph and tragedy, etc.
So without any further ado, here are The Informer's "30 Reasons ESPN Needs To Make a 30 for 30 on the 1990s Nebraska Cornhuskers."
30. Eric Crouch
Honestly, I am not the biggest Eric Crouch fan, but the fact that he started his career at Nebraska in 1998 and then went on to become the only Husker quarterback to ever win a Heisman trophy (albeit in 2001-02) makes his inclusion on this list of reasons mandatory.
Also, Crouch get's bonus points for doing this to the state of Iowa . . .
29. Matt Turman
If you were a Nebraska fan in the mid 90s then The Informer can guarantee you were a fan of the "Turmanator".
Not only was Matt Turman the most popular third string quarterback in the history of college football (reason enough to get on this list), but the guy actually started and won a game against a ranked opponent (a 17-6 victory over Kansas State) during the Huskers first national championship run in 1994.
Just saying, I do not remember too many championship teams in his lifetime that could start a third string "walk-on" quarterback against a Top 20 team and still win the game. That is how good Nebraska -- and Turman for that matter -- was in the mid 90s.
28. Oklahoma Breaks Mickey Joseph's Leg
The last game of the 1990 regular season pitted the arch-rival Oklahoma Sooners against the Nebraska Cornhuskers on the

Friday

after Thanksgiving. The Informer remembers this day well because it was the day those damn thug Sooner's illegally hit Mickey Joseph 10 yards out of bounds causing the Husker QB to go flying into the sideline benches. Mickey would later be diagnosed with a broken leg and his career as starting quarterback for the Huskers was over.
Joseph may have had his career cut short because of cheap Sooner plays, but I will never forget watching #2 lead the Huskers to a 9-2 record as a starter in 1990. And hopefully -- once this 30 for 30 airs -- the proper chargers for assault can be brought against those Oklahoma thugs whose cheap shot cost Joseph his chance at becoming a Husker legend.
27. Bullet in the Butt
Before The Informer found out that Forrest Gump had been shot in the buttocks during the Vietnam War, the most famous "bullet in the butt" story I knew about was Nebraska wide receiver Abdul Muhammad; who played his entire career with a bullet in his caboose.
Call me crazy, but that is a back story (get it?) The Informer would be interested in learning more about.
26. Corn-fed Lineman
They were all big. They were all fast. They were all stronger than everyone else. And apparently they all loved to eat corn.
25. Running Back U
Off the top of my head, here is the list of great running backs that played for the 90s Huskers: Derek Brown, Calvin Jones, Lawrence Phillips, Clinton Childs, Damon Benning, Ahman Green, Jay Sims, Dan Alexander and Correll Buckhalter.
That is a murderer's row of talent ladies and gentlemen.
24. Matt Davison's Remarkable Catch
23. The Great Games
Whether it was the 1994 Nebraska-Colorado (2 vs. 3) game, the 1995 Orange Bowl against the Miami Hurricanes (1 vs. 3), or the 1993-94 FSU-Nebraska championship game (FSU won 18-16, more on that in a minute) the 90s Huskers were involved in some of the most historic college football games of all time.
These great games alone (losses included) would provide more than enough material for a two hour 30 for 30.
(The Informer note - The Washington Huskies, Colorado Buffaloes, Oklahoma Sooners, Miami Hurricanes, Florida State Seminoles, Kansas State Wildcats, Tennessee Volunteers and the Florida Gators all played against Nebraska in the 90s while they were ranked in the Top 10.)
22. Terrell Farley
I am not going to lie, I absolutely loved #43. He was some kind of hybrid linebacker who was faster than everyone else on the field. Now, due to old age and years of Natty Light abuse, my memory has become a little hazy, but I am pretty sure that one season Farley finished with 20 touchdowns and 50 sacks. That has to be some kind of record, right?
Honestly, to this day, I have no idea how Farley did not become the second coming of Lawrence Taylor.
21. Sellout Streak
In recent years many have commented that Nebraska maybe cooking the books when they mention their ridiculous 51-year sellout streak. But make no mistake about it, in the 90s there was no harder ticket in college sports to get than the one for Memorial Stadium on Saturdays.
20. The Tunnel Walk
Does this not give you chills?
19. Tradition of Walk-ons
If you wanted to play football for Nebraska you could. All you had to do was enroll at the school and walk onto the team. Anyone and everyone was welcome.
Truth be told, it was the Nebraska walk-on program that helped make playing at Nebraska an experience unlike any other in the country.
And it is definitely something that will make for a great story-line in this documentary.
(The Informer cool stat of the day that he read on the internet and has no idea if it is true – Over the course of Nebraska football history there have been 30 Husker walk-ons who made it all the way to the NFL.)
18. The Fullbacks
Who didn't lovedCorey Schlesinger (scored two touchdowns in the 94 National Title Game against Miami) and the brothers Makovicka (Jeff and Joel). From 1992 through 1998 these three guys were the epitome of what Nebraska football was all about –hard-nosed smash mouth football.
17. Winning Tradition
In the 90s Nebraska never won fewer than nine games. In six of the seasons they finished with 10 or more wins. And if you count "Unclaimed National Championships" Nebraska won the title five times in the decade.
If you looked up the definition of winning in the 90s, there would be a picture of the "Big Red" logo.
(PS – I have no idea who gets to vote on unclaimed national titles. It was just a stat on the Husker's Wikipedia page that said Nebraska has unclaimed titles for the 1993 and 1999 seasons so I decided it has to be true because the internet said it was.)
16. The Inaugural Big 12 Title Game
In 1996 the Huskers were on the verge, despite an early season loss to the Arizona State Sun Devils, of making it to their fourth straight national championship game. The only problem was they still had to get past the Texas Longhorns in the inaugural Big 12 Title Game.
Well . . . Thanks to a gutsy fourth down call by Texas Coach John Mackovic, the game did not turn out the way Husker fans would have hoped. Unfortunately that stomach punch loss also happens to be a great story-arch for anyone contemplating doing a 30 for 30; which is why I had to bring it up in this article.
On as side note, f you will all excuse me for a second, I need to go ram my head against a brick wall #F***Texas.
15. Beating Peyton Manning
Not only did Nebraska beat Peyton Manning and the Tennessee Volunteers in the 1997 Orange Bowl, they destroyed him. Some people to this day say that Manning's big game struggles can be traced back to that beating the Huskers gave him.
It has also been reported on the internet (by sources) that Manning wakes up in the middle of the night begging Grant Wistrom and the Peter Brothers to take it easy on him.
(The Informer note – I completely made up the part about Manning having nightmares about the Huskers and the fact that Nebraska causes Peyton to struggle in big games. But the Huskers did beat Manning to earn a share of the 1997 National Championship which is pretty cool considering the guy is hands down one of the greatest to ever play the game.)
14. Scandal's Galore
"Informer, in order for there to be a 30 for 30 there has to be some kind of scandal. No one wants to watch a documentary about a squeaky clean coach who got his team to play at the highest level possible. We
want scandal?"
Oh you want scandal . . . The 90s Huskers can give you scandal.
How about Lawrence Phillips getting kicked off the team for allegedly dragging his girlfriend down a flight of stairs and then being allowed to return to the team in time for the national title game?
What about numerous reports of All-Pro players having run-ins with the law while playing at Nebraska?
And let's not forget, there was more than loud chatter about the Huskers legendary weight lifting program throughout that time #STEROIDS (allegedly).
The truth of the matter is; this was a college football team playing at the highest level with volatile personalities that ultimately led to a number of things people would consider scandalous. Such as; drinking, drugs, fights, sexual assaults, attempted murders, harassment, police cover-ups, coaches cover-ups, cheating, etc.
The thing is we didn't hear about many of these things because back in the early 90s the media was not like it is today –where everyone is out trying to break a story. Back then the media and the police (allegedly) would help in the cover-ups so that the program would not be hurt. Right or wrong, that is just how things (allegedly) worked during that time period.
It wasn't until the Phillips story became national headlines, in most part because he was a Heisman front runner at the time of being kicked off the team, did people start realizing the Husker program was not nearly as squeaky clean as many outsiders thought.
So to answer the question: Nebraska has its secrets. They just need to be uncovered.
13. Trev Alberts
Before he became one of the biggest busts in NFL history, Trev Alberts was one of the greatest college football linebackers of all-time. That is not an over exaggeration.
12. Frank Solich Replaces a Legend
Frank Solich won at least nine games in five of his six seasons as the head coach for Nebraska. Frank Solich finished in the Top 10 in three of his six seasons and he made a bowl game every year as the head coach for Nebraska. Frank Solich was named the Big 12 coach of the year two times during his time as the head coach for Nebraska. Frank Solich was 58-19 (.753 winning percentage) as the head coach for Nebraska. Frank Solich was fired after six successful seasons as the head coach for Nebraska.
11. The Black Shirts
I kinda feel like mere words would not do "The Blackshirts" justice. So instead, here is a video.
10. Ahman Green
Ahman Green was the first Husker running back to rush for 1,000 yards as a freshman (his 1,086 yards is still a record for first year backs at Nebraska). And even though Green was great from the moment he stepped on campus, the thing that ultimately made him one of the all-timers is that he followed up his first year with even better second and third seasons.
When it was all said and done Green finished his career with 3,880 yards; which is currently the second greatest rushing career in Husker football history. In any and every conversation about Nebraska football, Green has to be mentioned as one of the best to ever step onto Tom Osborne Field.
(The Informer note – Mike Rozier owns the Nebraska rushing record with 4,780 yards. But the thing you need to remember is Green left Nebraska after three seasons. Just saying, if Green would have stayed for his senior season it is very conceivable that he would have left Nebraska as their all-time leading rusher. In fairness, it should also be noted that Rozier racked up his impressive 4,780 yards in just three seasons; as he played his first season of college ball at Coffeyville Junior College in Kansas before transferring to Nebraska.)
9. Scott Frost
Did you know that Scott Frost was hiding in the closet (allegedly) the night that Phillips got into trouble for assaulting his girlfriend? Did you know that at the time Frost was attending Stanford University instead of the university in his home state of Nebraska? Did you know that once Phillips left Nebraska, Frost transferred home and eventually led the Husker to a national title?
Doesn't that sound like a story you would like to hear more about?
8. Lawrence Phillips
Lawrence Phillips was the best college running back I have ever seen play. He had size, speed, quickness and running ability like no one I have seen before or since. There is no doubt in my mind that with a couple of different decisions Phillips would have become one of the greatest football players of all time.
Sadly the story of Phillips is not so much about his greatness, but more about the fact that he is currently spending 31 years in prison.
Obviously, there have been many different ESPN 30 for 30s about athletes who never quite made it for one reason or another (the one on Oklahoma running back Marcus Dupree is absolutely superb), but I can honestly say the Phillips story maybe the worst case of squandered greatness he can ever remember.
Lawrence Phillips was that dominant of an athlete while he was at Nebraska.
7. The 1993 National Title Game
What if I told you that the Nebraska Cornhuskers were a 45-yard field goal away from winning three straight national titles? What if I told you that Nebraska would have won the game despite the missed field goal if a referee hadn't called a phantom block in the back penalty during Corey Dixon's punt return for a touchdown in the first quarter? What if I told you that Bobby Bowden paid the refs off which is why all the calls went Florida States way?
Okay, so I may have made up one of those what-ifs. But the other two are completely true. The 90s Huskers were a couple of calls and one bad kick away from being back to back to back national champions.
6. The Battle Against the State of Florida
In the 90's Nebraska played Florida State three times (losing all three) Miami twice (1-1) and Florida once (1-0). These matchups were always exciting because the Florida teams were known for speed and flair, while Nebraska was always known for toughness and strength.
Naturally, the contrast of styles between the Florida schools and Nebraska always made for great football games. And at the end of the day, I feel pretty comfortable saying that the Huskers biggest rivalry during this time was definitely the state of Florida.
5. Back To Back National Champions
Since the 1950's only seven teams have won back to back national championships; Oklahoma (50s and 70s), Alabama (60's, 70s and 2011-12) and Nebraska (70s and 90s). We are literally talking about a team that was one of the elite teams in the history of college football.
4. Tom Osborne
Tom Osborne is the Mount Rushmore of college football coaches.
3. Tommie Frazier
I have only one question about the great Tommie Frazier: How in the bluest of hells did Eddie George win the Heisman trophy in 1995 over the greatest college quarterback to ever play the game? Seriously, Frazier finishing second in the Heisman voting is the biggest sports award travesty in the history of college football.
Heisman robbery aside, Frazier is the only player in college football history to be named the MVP in three straight national championship games. He was Big 8 freshman of the year in 1991. He was a consensus All-American in 1995 and he also won the Johny Unitas Golden Arm Award that year. And finally; Frazier is a college football Hall of Famer who finished his career with a ridiculous 33-3 record as a starter, four conference titles and two national championships.
By all accounts, "Touchdown Tommie" is the greatest player to ever play at Nebraska and arguably one of the greatest college football players of all time #TouchdownTommieFrazier . . .
2. The Rise and Fall of a Dynasty
The Rise
Nebraska started the decade on a 20 year championship drought, only to finish the 90s with three titles. Furthermore, if a few breaks would have gone their way, we would be talking about a team that won three straight national championships and four total in five years (if they would not have missed the field goal in the 93 Orange Bowl).
Nebraska's 60-3 record from 1993-97 is the best record over a five year stretch in college football history (Alabama is currently 60-7 over its last five years).
Also, from 1991 to 1998 Nebraska won an astounding 47 straight home games. On top of that, from the end of the 1992 season to the beginning of the 1996 season Nebraska was 39-0 in the regular season.
Please read that last paragraph again. They went 47 straight home games without losing and they did not lose a regular season game in over four years. That is damn near unbelievable considering they are a football team playing in Lincoln, Nebraska.
The Fall
In the 17 years since Tom Osborne retired, Nebraska has only played for the national title one time –a 37-14 shellacking (it was 34-0 at halftime) at the hands of the Miami Hurricanes during the 2002 Rose Bowl.
The fact is since the turn of the century Nebraska is no longer the juggernaut that dominated the college football landscape for an unprecedented ten year stretch. Maybe it started with the firing of Frank Solich (an Osborne guy) and the hiring of Bill Callahan (the anti-Tebow), but whatever the reason the Nebraska dynasty lost its way during the 2000s.
Only now, once again under the watchful eye of Dr. Tom the A.D. (Osborne has since retired but the resurrection started when he came back), has the Husker program started to make strides towards getting back into the national conversation.
The rise and fall (and hopefully the rise again) is the main reason I think there needs to be a 30 for 30 made about this team. Because it is not every day a dynasty comes along and falls apart in front of our eyes; which is exactly what has happened to the Nebraska program over the past 24 years.
In closing, no matter how you slice it; there needs to be a 30 for 30 about the 1990s Nebraska dynasty. It was a dynasty that had everything: a great leader; great players; tragedy; scandal; heartbreak and triumph on a national stage; great characters; highs and lows; but most of all it was a dynasty that transcended football by bringing together an entire state of people every

Saturday

(it still does this today) to do one thing –yell GO BIG RED!!!
And just in case ESPN is still not convinced: Did I mention that during the 90s Nebraska fielded the greatest college football team of all-time . . .
1. Brook Berringer
Brook Berringer was the backup quarterback to Tommie Frazier, who subbed in during the 1994 season after Frazier was sidelined due to a blood clot. All Berringer did during this time was win games with a collapsed lung (against Oklahoma State) while helping to lead the Huskers to an undefeated season and their first of back to back national titles (Frazier made it back in time for the national title game leading to he and Berringer splitting snaps during Nebraska's 24-17 victory over Miami).
When Frazier came back healthy in 1995, instead of sulking or trying to transfer; Brook reprised his role as back up and all around great teammate. In every sense of the way, Berringer was one of the players that stood for everything that was right about Nebraska football. He was a great teammate, worked hard, did things the right way and when his number was called he was always ready to step up and shine.
On April 18th, 1996 Brook Berringer tragically died in a plane crash.
To this day, April 18th, 1996 remains one of the saddest days I can remember having in my 25+ years of watching sports.
Berringer maybe gone, but he will never be forgotten.